Have a look through the Webcam at St. Blaize …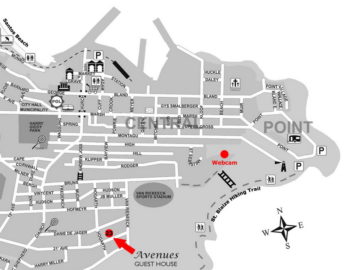 This Webcam is situated at St. Blaize and overlooks Mossel Bay in northerly direction, starting with Santos Beach on the left side, followed by the harbor and the bay with the Outeniqua Mountains in the background. The photo will automatically be updated after ten minutes.
Please note: The view is not from Avenues Guesthouse!
The camera is a MOBOTIX M24M Secure with a 90 degrees wide angle lens.
Please note: The enlarged view of the Webcam won't automatically be updated! Please press F5 for an update of the enlarged view.
Our Nexus Wireless Weather Station is installed on the roof of Avenues Guesthouse and does not only capture the shown data, but also captures information about the indoor climate, the dew point and the phases of the moon. Additionally, together with the air pressure sensor and the recorded air pressure fluctuations, a weather forecast and the air pressure tendency is calculated and shown through a variety of weather symbols on a display which is accessible for our guests.
Actual Weather at

Avenues Guesthouse

24.09.2023, 12:55

Temperature:
15.4 °C
Wind Chill:
14.0 °C
Humidity:
86 %
Wind Direction:
NW
Wind Speed:
17.2 knots
Wind Gusts:
19.8 knots
Rain last 24h:
10.40 mm
Sunrise:
06:18
Sunset:
18:29